How to Prepare Your Home for Winter
10/27/2017 (Permalink)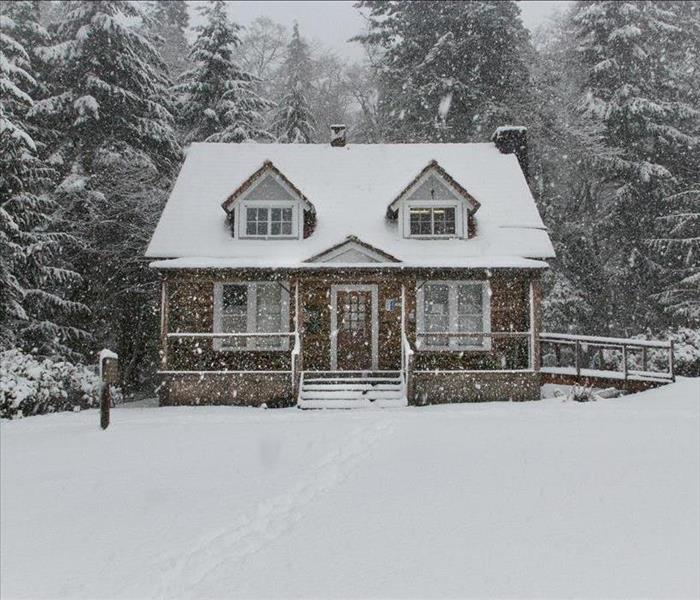 It's time to prepare your home for colder winter months. Preparing for the change in season can help save energy and prevent costly damage.
As winter fast approaches, it's time to start preparing your home for the colder months of the year. Problems you may not have noticed during the rest of the year can become a bigger issue as the weather starts to shift. Properly preparing for the change in season can help you save energy and prevent costly damage.
Prepare Your Pipes
The last thing you want during the winter months is a frozen pipe. Water expands when it freezes, which can result in burst pipes, flooding, and major water damage.
Leaky pipes can lead to expensive problems if they're left untreated when winter comes. Watch for telltale signs of leaky pipes such as unexplained high water use or water damage. If you suspect you might have a leak, get your home inspected.
If you have any pipes in unheated or uninsulated areas of your home, make sure to wrap the pipes with heat tape or pipe insulation.
If you plan to head south for the winter or go out of town for an extended period of time, you may want to consider shutting off the water completely and hiring a service to drain your pipes.
Shut Off Exterior Faucets
Don't forget your exterior water systems. If you don't properly drain water from your exterior faucets/pipes, they may freeze, expand, and cause damage. Disconnect garden hoses, and drain the water out of the faucets. Unless you have frost-proof faucets, you'll need to use the shut-off valve located inside your house.
Inspect Your Heating Systems
Before the first frost, have your HVAC system inspected. This will allow you to identify potential problems early and enjoy energy savings throughout the winter months. Make sure to vacuum out the vents, replace furnace filters if needed, and check for issues like leaks, cracks, or an underperforming system.
Inspect and clean your fireplace and chimney as well. You'll want both in top shape for those cozy nights next to the fire.
Reverse Your Fan
During the summer months, most fans turn counter clockwise, which allows the slightly angled blades to push air down. This creates a wind-chill effect, which cools down the occupants of the room.
Warm air rises, which unfortunately means the warmest part of a room is well above you. If you can force the cooler air upward, you can push the warmer air down to your level and not have to turn the heat on quite as high. If you reverse the fan to rotate clockwise, it will pull up the cooler air from the bottom of the room toward the ceiling, which will force the warmer air in the upper part of the room down.
Clear Your Gutters
It's always a good idea to clean out the gutters, but it's especially important right before winter. The fall months, while beautiful, come with a lot of natural debris. Unfortunately, fallen leaves, twigs, and pine needles can clog up gutters and cause ice dams and icicles in the winter. Regularly clear out the debris to prepare for winter.
Examine Your Roof
Even small leaks in your roof can cost you in both utilities and greater damage to your roof. Clear the debris off your roof, and take a look at its current condition. Watch for damaged or missing shingles, any pooled water, or other signs of potential roof damage.
Seal Your Doors and Windows
Check your weather stripping and re-caulk around doorways or windows as necessary. If gaps between siding and a window or doorframe are bigger than the width of a nickel, it's time to re-caulk. Make sure you use caulk that's recommended for home exterior use.
Whether you find problems while preparing your home or it sustains winter-related water damage, SERVPRO® of North Everett/ Lake Stevens/ Monroe is here to help.
We offer 24/7 emergency service, and we can help prepare your home or restore water damage "Like it never even happened." Call us at 360-243-8313.