We Have Cutting Edge Equipment To Restore Your Everett Home After A Flood
10/3/2019 (Permalink)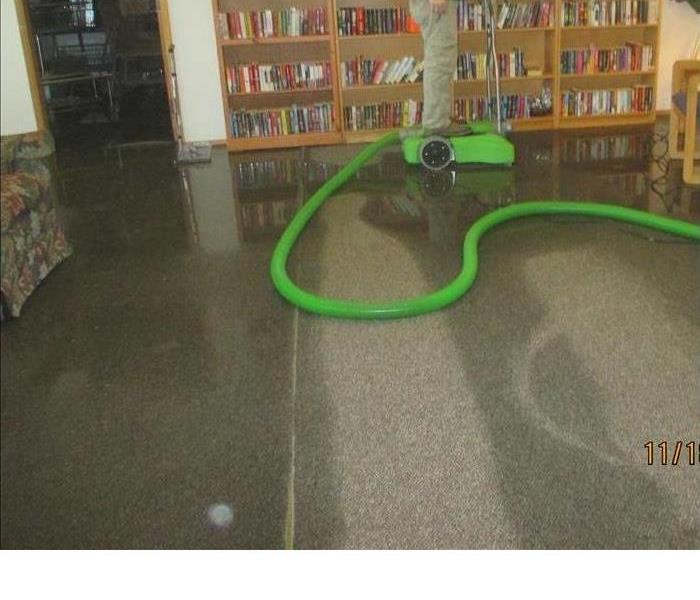 This equipment helps extract water from deep in the carpet, thus reducing drying times. We will get started right away to prevent further damage.
Sometimes the Best Restoration Outcome for Flood Damage is Prepping the Everett Property for Reconstruction
When flood damage happens, the race is on to limit loss by beginning the cleanup. The more water there is or if too much time passes before mitigation starts are factors that affect the outcome.
Basements especially finished basements in Everett that receive flood damage, have several cleanup challenges for technicians to tackle beginning with the extraction of standing water and removal of water loss items.
Why SERVPRO?
The technicians hold certifications in the restoration sciences and do not rely on consumer-grade fans and wet/dry vacuums for water removal and drying tasks. SERVPRO uses state-of-the-art moisture detection, extraction, and drying equipment. For example, the design of the centrifugal air movers does more than deliver air on a wet surface to dry it. The velocity of the air is so strong; it forces embedded moisture to rise where it is then ported off-site by the dehumidification equipment. This is just one way using a professional restoration company benefits homeowners.
Deep Water Does Not Have to Wait
When water runs into a basement, if it is more than the sump pump can handle, SERVPRO technicians have submersible pumps that work in standing water of over two-inches with ease. Due to the contaminated nature of groundwater as a class three biohazard, very little of the structure or the affected contents may prove restorable, but the technicians inspect as they clean to look for items that have recovery potential.
Restoration and Reconstruction Services
There is often a considerable amount of flood damage left behind after a water loss of this type in a home. After the completion of restoration efforts, rather than go through the stress of finding, vetting and qualifying a contractor to repair and rebuild, SERVPRO has a general contractor license: #SERVPES871RD and offers this service after the fact if a homeowner chooses to make the cleanup and reconstruction into a seamless service.
SERVPRO of North Everett / Lake Stevens / Monroe at (360) 243-8313 removes, restores and rebuilds any size flood damage in local properties. The technicians are on standby 24/7 and make the loss to your home, "Like it never even happened."
See more about Everett.