Approaches Everett Professional's Use Against Severe Water Damage
1/16/2023 (Permalink)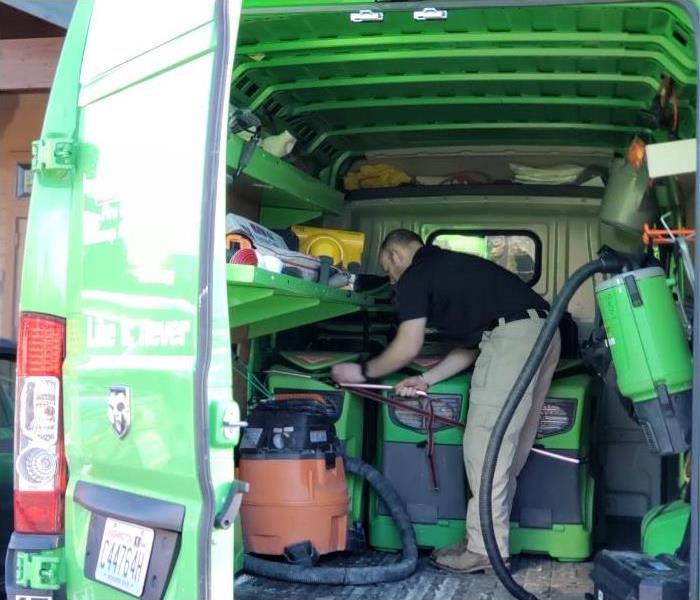 Our SERVPRO crew arrives to mitigate water damage from residential and commercial properties in Everett.
SERVPRO Unravels Everett Water Restoration Challenges
Water damage can be classified as severe if the level of deterioration is high or if the affected section presents challenges that can interfere with standard restoration procedures. Characteristic conditions that result in such outcomes include extended moisture exposure when water is left stagnating in a building over an extended period. Another alternative is when the affected part of the structure is an assembly of different materials. A professional can help you easily overcome such challenges in your Everett home.
The most critical aspect of addressing Everett water damage is understanding the spread patterns and whether any barriers can interfere with water evacuation. Moisture barriers lengthen the time it takes to complete extraction or create hidden moisture pockets. Both outcomes are not ideal since wastage of resources and development of secondary damages are likely. With the evaluation done by SERVPRO, it is easy to find sound solutions for both issues.
When the wetness affects standard materials, controlling damage requires creating ideal drying conditions on the material's surface. That allows moisture to escape from the materials to the surrounding air, halting further deterioration or reversing the moisture's negative effects on the substance. For instance, swollen wood regains its usual form once the absorbed water is reduced.
Ideal drying conditions include:
Sufficient airflow
Warm temperature
Humidity control
The Challenge of Structural Assemblies
Many sections of a home are made from combinations of different materials known as assemblies. In most cases, these materials have varying physical properties like varying levels of porousness and permeability. Porousness describes the material structure regarding the void spaces present, while permeability is the ease at which moisture passes through a material. In terms of physical properties, materials range from thick layers of solid materials with uniform properties to thin layered materials with varying properties. Typical assemblies include ceilings, staircases, and floors.
Restoring assemblies requires sufficient power to remove the water absorbed into materials, thus halting water damage. Our SERVPRO IICRC-Certified technicians are equipped with enough air movers and dehumidifiers to facilitate drying. The air movers ensure sufficient airflow around the wet areas. Dehumidifiers extract the moisture released into the air, thus sustaining constant drying speeds.
Other properties complicating the restoration of assemblies
Vapor barriers
Conditioned and unconditioned surfaces
Moisture entrapment in concealed areas
The efforts to restore an assembly after water intrusion can fail if there is a vapor barrier that interferes with evaporation. Vapor barriers can be layers of gloss paint, wallpapers, or 4-mil plastic sheets installed behind drywall. If the barrier is not addressed, drying might not be successful regardless of the number of drying equipment used. You can address vapor barriers in different ways, including perforation or disassembling the affected areas.
When an area is conditioned and unconditioned, it is necessary to ensure that the drying processes can work for both. Our SERVPRO technicians incorporate additional steps apart from standard drying equipment when drying unconditioned areas. For instance, we can set up drying chambers to ensure airflow or dehumidification is contained within a specific site such as an attic. When drying walls, we drill vent holes at the base of the wall allowing circulation of warm, dry air in the wall's interior.
SERVPRO of North Everett / Lake Stevens / Monroe works with diligence to counter any challenges related to water damage. Call us at (360) 243 8313. We're Faster To Any Size Disaster.