Water Damage to Your Everett Home? Here's the First Steps You Can Take Before Help Arrives
11/15/2019 (Permalink)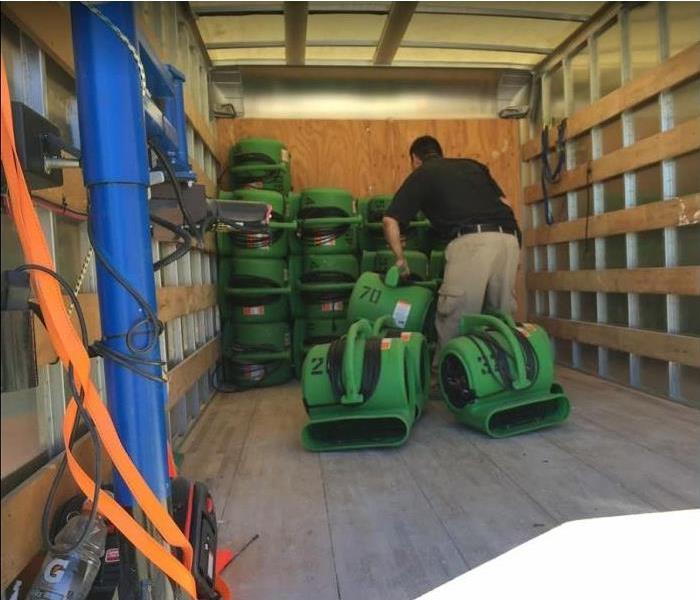 We keep each vehicle in our Green Fleet stocked and ready to go to meet and water damage emergency you might have.
Water Removal in Everett-What to Do Before Help Arrives
There are some actions homeowners can undertake to limit loss against water damage in their residence before SERVPRO arrives. First and foremost, if the damage is emanating from the plumbing such as a broken supply line or burst pipe, turn off the water to the home.
There are other actions homeowners can take before water removal in their Everett homes to help save items from water loss. These steps include picking up small items from the floor, such as decorative baskets, small accent tables, and rolling up rugs to get them out of the way of any moisture. Things that can transfer ink onto carpeting such as newspapers or magazines need removal. Laying down towels or rags to halt the flow of water also helps limit the spread. If possible, move small pieces of furniture out of the room, especially composite wood as water often renders these types of items unrestorable.
Safety First
Never lift anything weighty or possibly unsafe, wait for SERVPRO to arrive. If home electronics received or you suspect water damage, to avoid the risk of shock, do not test these items. Talk to the SERVPRO team coordinator about any concerns regarding these items, and they can arrange for a professional to inspect them.
Why SERVPRO
The technicians undergo extensive hands-on training to learn the best practices for every residential or commercial property disaster cleanup and restoration. SERVPRO technicians always attempt to save homeowners the cost of replacement through their proprietary methods.
Rebuilding After Water Damage
Due to the nature of sheetrock wicking water quickly, removal and repair of damaged walls is a common after-effect. SERVPRO has a general contractor license #SERVPES871RD. Once the water cleanup efforts complete, they can offer homeowners a direct transition into any needed repairs to restore the water loss area to its preloss condition.
SERVPRO of North Everett / Lake Stevens / Monroe is ready to assist local property owners with any size water removal needed. Contact the emergency response team at (360) 243-8313 and get the water loss in your home turned around fast, "Like it never even happened."
More about Everett.