Moisture and Water Removal Are Cornerstones to SERVPRO's Restoration Services for our Everett Neighbors
1/13/2020 (Permalink)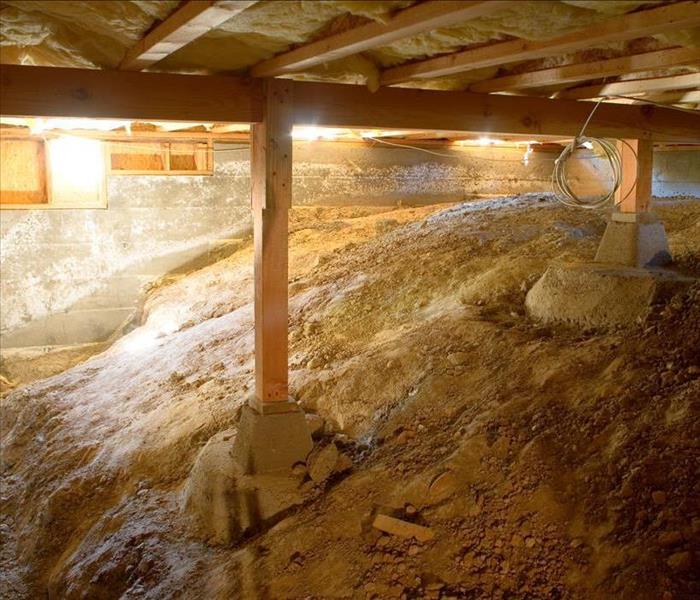 To Remove and then Avoid Mold, Water Damage and Efflorescence in Everett Area Crawl Spaces--Call SERVPRO
Water Cleanup Everett – Cleaning Confined Space
In crawl spaces and small bathrooms, it is essential to remove all of the excess water and moisture to avoid mold and mildew infestations. Leaking water can penetrate the space under cupboards, vanities, and walls behind sinks and toilets. Crawl spaces in the Seattle area are often dark and humid at the best of times, promoting the growth of mold once water leaks in and dampens food sources.

SERVPRO has operated in the Everett area, providing water cleanup services for the past five years. We have helped many of our clients with almost every type of water leak imaginable. One of the most critical points to consider is always to remove unwanted water and lower the humidity to normal levels as quickly as possible to avoid the potential growth of microorganisms.

How to Detect Moisture Hotspots?

Our SERVPRO technicians have much experience in this area. We know where to look, and we have the tools to measure the humidity and moisture content of various materials and spaces. Once it is determined that there is a moisture hotspot, we can apply a variety of solutions to dry the area and avoid additional damage.

Specialized air movers can blow dry air into these hard to reach cavities and spaces. The dry air absorbs moisture, which can be removed by strategically placing dehumidifiers in the area or close by.

Crawl spaces are dark, damp, and warm, perfect conditions for mold to grow. There can also be contamination from previous leaks, rodents, and material left over from construction. SERVPRO can evaluate the situation and take the appropriate precautions to protect your family from any issues. We take the necessary steps to avoid contaminating other areas of your home if some material must be evacuated from the crawl space.

We also have a Washington state general contractor license. License #: SERVPES871RD. SERVPRO can clean up after water damages your home and make repairs to return it to preloss condition, "Like it never even happened."

Call SERVPRO of North Everett / Lake Stevens / Monroe at (360) 243-8313 for 24/hour service. We proudly serve Port Gardner, Riverside, and surrounding areas. We're Faster To Any Size Disaster.