What You Can Do For Your Everett Home When Flood Damage Strikes
6/17/2022 (Permalink)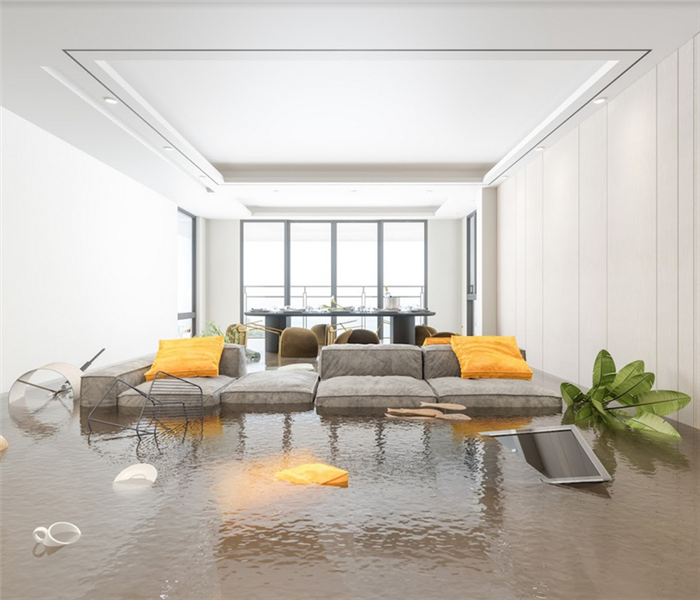 Flooding can often overtake your home and damage the structure and contents. Take control of the situation by contacting SERVPRO. Call us 24/7.
SERVPRO can help you smooth out the process for your Everett storm damage.
When you see a weather report of a severe thunderstorm coming during the night, most people would hardly expect it to lead to flood damage inside of their home. However, sometimes luck can fail, and an unfortunate accident can occur inside of your home. In these moments, it is essential to reach out for professional help as soon as possible. Quick reaction times mean a better chance for a smooth remediation process.
Storms can bring intense winds, and those winds can cause damage to the outside of your Everett home and allow flood damage inside. Hypothetically, let's say that one of your windows is forced open by the storm's strong winds. Throughout the night, rainwater was able to get inside of your home and flooded your dining room floor.
Reaching out for professional help as soon as you find the damage is the best thing you can do for your home. Quickly cleaning up the water can prevent future complications, such as mold damage. If mold damage is left unchecked, it can cause rot to the structure of your home, which is never a good thing.
When you get in contact with SERVPRO, our technicians always respond swiftly. We can gather a team of talented water damage restoration technicians (WRT) and send them to your home as soon as possible. However, our arrival may be delayed depending on weather conditions. Even if flooded roads or fallen trees, our technicians are still dedicated to arriving at your home and helping you remediate the flood damage inside.
Once we arrive, SERVPRO can investigate the flood damage inside of your dining room and create a water extraction, clean up, and drying plan. We can use wet/dry vacuum and rover-mounted extractors to clean up the standing water. From there, we can use antibacterial cleaning agents to wipe down your floor and walls. After searching for extra pockets of water with our thermal imaging cameras, we can set up a drying environment using devices like flood-drying mats and dehumidifiers. Here at SERVPRO, we're thorough and dedicated to leaving your home, "Like it never even happened."
If sudden flood damage strikes your home, get help immediately. Reach out to SERVPRO of North Everett / Lake Stevens / Monroe by dialing (360) 243-8313 on your phone. We can send techs right away and help you.