How Did My Roof Get Damaged During the Storm?
5/13/2020 (Permalink)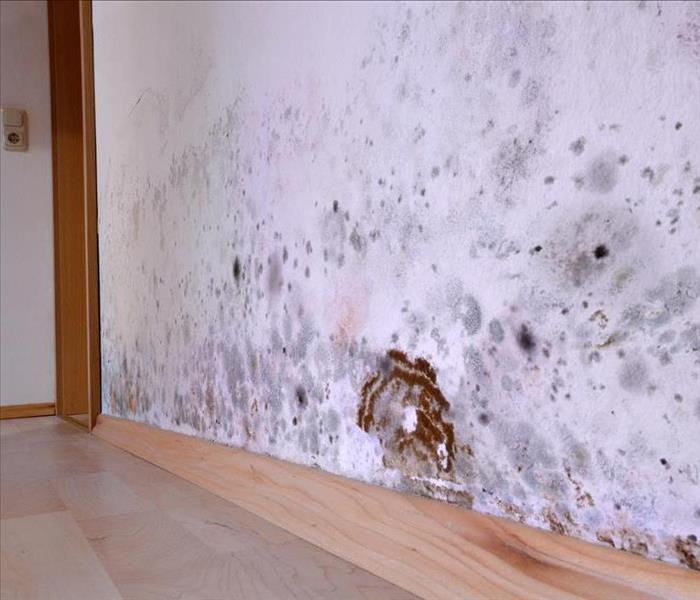 Does your Everett building have mold growth from after the storm? Call SERVPRO to mitigate your problem.
Real-Time Solutions to Damaged Everett Structures is a Cornerstone of SERVPRO Services
With the level of destructive storms that can reach this area of Everett and Greater Seattle, our restoration team must remain diligent in responding to these emergencies as they happen. The sooner that our professionals can reach a storm/flood-damaged home, the less likely irreparable damages are overwhelming. Structural damages are among the most consistent concerns after a fierce weather event, and the roof is often the most vulnerable of these areas.
Identifying and resolving storm flood damage in Everett homes is more than just extracting water and drying up saturated materials. In many cases, the solution to flood losses involves the repair of many compromised structural elements that lost the battle to nature's forces. Roof damage is a common threat, as many scenarios can lead to a damaged roof, including trees falling, hailstorms, gale-force winds, and even prolonged torrential rains.
How Destructive Are Roof Damages to a Home?
Roof damages provide direct access for water damage and other threats to penetrate the house. A structural compromise of this nature can lead to multiple challenging obstacles for our responding restoration professionals. Understanding how problematic structural breaches are can encourage securing skilled and experienced restorers like our SERVPRO team to help. Penetrating water or vulnerable points in the roof can lead to:
Flooding – Flooding and water penetration are among the most direct and threatening circumstances that can exist when parts of a roof collapse or vulnerabilities exist. Direct runoff, wind-driven rain, and other circumstances can all leave the living space beneath the roof worse for wear.
Structural Openings – Physical openings and breaches in the defenses of your home are not just problematic for allowing precipitation into the property. Animals and insects can find their way easily into your house in search of food after a hard storm, primarily if you have not adequately addressed substantial openings in the property.
Spreading Damages - Once the water begins to penetrate openings in the roof, the saturation of these materials can continue to spread. Within a short time, the joists and underlayment of the roof around the penetration point have weakened and allowed a more substantial flow of intruding water.
Who Can Take Care of Fallen Trees that Damage My Roof?
Falling trees are more of an everyday staple to fierce storms than many area residents might have initially believed. With so many trees on the properties throughout the area, a single instance of lightning striking or a tree becoming overwhelmed by fierce rain and wind can be enough to cripple the roof of your home if it falls towards the house.
Removing a Tree – Our professionals can cut up and remove entire trees that are still laying in the remnants of a structure. This service allows our contractors room to work on other necessary emergency services.
Boarding up Structural Openings – When siding gets removed, or holes get made in the sides of your home from a falling tree, this can welcome several threatening conditions. We can take plywood and other materials and seal off these breaches until it can get adequately repaired.
Roof Tarping – With holes or collapsed portions of a roof due to trees or limbs, tarping can keep the attic and lower levels drier. While some exposure might have already taken place, tarping prevents continual flooding scenarios.
Is My Attic Space Flooded?
If you are not using the attic as living space, it is feasible that you might not ever go up in this storage space. This lack of traffic can make identifying flood damage and roof leaks a challenge. Here are some of the signs that your attic might have substantial water damages:
Spotting – Spotting is the earliest stage of microbial and mold growth, meaning that colonization has occurred. Spotting is often a sign that more substantial mold and moisture damage has already occurred in the areas above the ceiling.
Staining – Water staining is a good indicator of a persistent roof leak that has inevitably affected the living space beneath the attic. Often this presents as yellowing on tiles.
Sagging – When materials like insulation and drywall get saturated by migrating floodwater, they begin to bloat and sag.
Can SERVPRO Repair My Damaged Roof Completely?
With a team of in-house licensed contractors, we can offer full reconstruction options for your home. Our technicians can work to prepare the area for repairs with efficient controlled demolition. We can transition from mitigation right to build back to complete jobs in a timely fashion. General Contractor License #: SERVPES871RD
After a storm loss, it can be challenging for homeowners to get the processes started to restore and recover their damaged homes. From falling trees to flash flooding, our SERVPRO of North Everett / Lake Stevens / Monroe team offers a full-service approach to meet your needs and to strive to exceed your expectations. Give us a call today at (360) 243-8313.