Everett Showcases the Beauty of the Seattle Metropolitan Area
12/7/2020 (Permalink)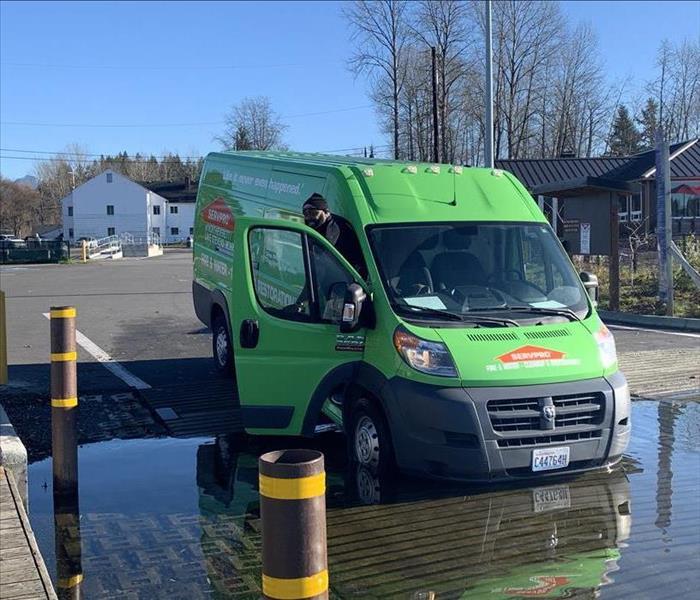 Our SERVPRO crew arrives to mitigate water damage from Everett properties, both residential and commercial.
Arts and Culture, Nature and Industry in Everett Make it a Great Place to Live.
Just a few miles from Seattle, Everett is among the main cities in the greater metropolitan area.
It is the seat for Snohomish county and the seventh-largest city in Washington State by population. Most of it lies on the Port Gardner Peninsula, which was historically under the Snohomish people's purview. Compared to other areas of the country, the city is relatively young, as it wasn't formally settled until the 1890s when plans to develop a town were conceived. Before that, loggers had settled down near the mouth of the Snohomish River with no clear plan.
Much more about Everett
Everett owes its name to Everett Colby, whose father, Charles L. Colby, was a significant investor. The city's buildout came from a group of investors on the East Coast coming together to develop an industrial area. Once the Great Northern Railway arrived, the city was incorporated in 1893. The Great Northern Railway allowed easy transport from St. Paul, Minnesota, to Seattle, and it was the northernmost transcontinental route at the time. At the time, sawmills and lumber were among the top industries for the city.
In the 1910s, the young city experienced civil unrest, and in 1916 the Everett Massacre took place. Also known as Bloody Sunday, local authorities and members of the Industrial Workers of the World Union (IWW) engaged in armed conflict on November 5, 1916. It is said that the root of the conflict is in the economic depression being felt in the city and the rising tension between workers and business owners.
Organized protests and demonstrations had been met with resistance from local law enforcement, and the IWW had organized to support shingle workers in Everett. Upon arrival, business owners hired men to beat the protesters and make them leave town. The Seattle IWW got involved in the conflict to show support for fellow laborers. The confrontation erupted in gunfire, and more than a dozen people were reported dead, with many more injured.
Transporation Transformation with Highways and Railroads
In the years that followed, a transformation happened in Everett due partially to the highways and railroad routes that catapulted it as a commercial hub. In 1936 an airport opened in Paine Field, and the end of World War II welcomed the construction of Boeing's assembly plant in 1967. The Boeing Everett Factory includes the largest building globally in terms of volume and serves as a factory for new airliners and ancillary programs. Today, the factory welcomes more than 150,000 visitors in a typical year and employs more than 30,000 employees. The facility houses its own fire department, coffee shops, daycare center, among others.
Thanks to Boeing's contribution to the local economy, Everett remains the major employment hub for Snohomish County. It has also become a dormitory community for nearby Seattle, making it easy for commuters to travel back and forth. The Interstate 5, the Sounder commuter train, and commuter buses all run at convenient times and intervals. Growth in retail space, residential neighborhoods, and commercial real estate has been deliberate and inclusive of private and public funding. Providence Regional Medical Center, established in 1994 following the merger of two Everett hospitals, was the first health center to identify a case of coronavirus in the U.S.
In 1983 the Strategic Homeport initiative identified Everett as a possible site for a naval station. The following year, conflict arose between those who approved of the station's construction and those who opposed the project. When voters expressed their approval, Congress procured the funding. In 1994 the project was completed, and a dedication ceremony celebrated the start of operations at the Naval Station Everett.
Arts and Culture in Everett
Everett celebrates diversity now more than ever, and its arts scene exemplifies this town value. Some of the places where art and culture come together for your enjoyment include-
Everett Art Walk- The third Thursday of each month from 5:00 to 9:00 p.m., this free event downtown invites residents and visitors to explore what the artistic community has to offer. Just park your car and walk from venue to venue for a lovely evening out.
Schack Art Center- this visual art center is free to the public and exhibits works by known artists and emerging talent. During your visit, you may be able to see a professional glassblower or other artists working on their crafts. Whether you like to draw, paint or work with glass, you are sure to enjoy your visit. The Schack Art Center is ideal for a family visit and budding artists.
Historic Everett Theatre- Although its show schedule is somewhat fluid in 2020, it provides opportunities for artists to explore, educate and promote the arts and entertainment in the Everett community. Due to occupancy restrictions, the Theatre is offering mainly virtual presentations at this time.
Protecting Your Everett Home
Just as the town has grown in an organized fashion through careful planning and consideration, so does SERVPRO tackle water restoration issues in Everett. Our team is ready to help whenever homes are victims or vulnerable to weather-related water events or mundane home accidents. Our training with industry experts prepares us for the most challenging situations, and we are just a phone call away.
Water restoration services are best performed by a competent team such as ours. Failure to extract water and dry thoroughly can have unpleasant consequences, such as mold growth. To avoid undesirable effects, let us bring our state-of-the-art equipment to identify problem spots and restore your home to mint condition. Whether you need a submersible pump, a wand extractor, or drying mats, we have access to the latest equipment in the industry.
SERVPRO of North Everett/Lake Stevens/Monroe is a leader in its field. Our knowledge and expertise are evident in every step we take, starting the minute you call our 24/7 hotline at (360) 243-8313. As we walk through your home, we focus on mitigating your loss and strive to leave it, looking "Like it never even happened."