Flooded Basement in Everett? Call SERVPRO for Water Removal and Restoration
7/17/2022 (Permalink)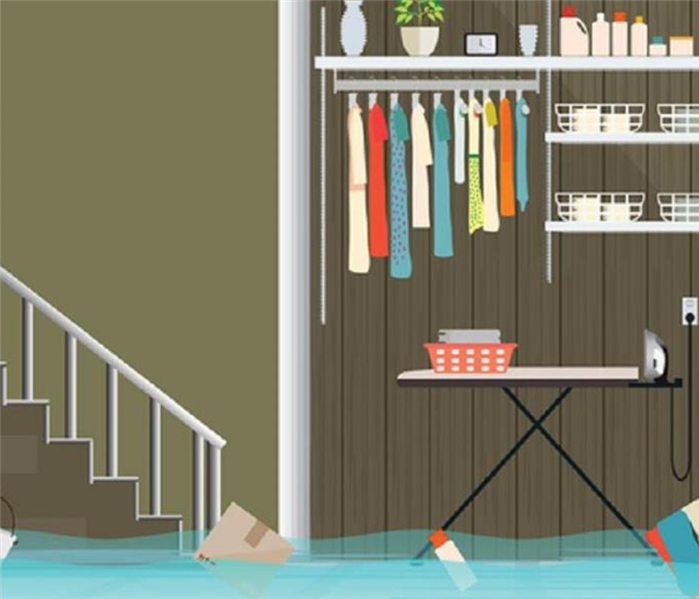 When you are facing basement flooding, the situation can seem overwhelming. Contact SERVPRO to assess and start the water removal process.
Removing Standing Water from Everett Basements
Standing water can present multiple threats for construction materials and the occupants of your Everett home. When water heaters malfunction due to age or a faulty connection, they can continue to work to resupply the tank without reaching a point where it stops. If you do not quickly notice this problem, the result can be catastrophic in the basement of the house.
Water removal for Everett homes, especially in subterranean levels, requires the use of premier extraction tools available to our SERVPRO team. While initial sopping can get done by the homeowner before our team arrives, removing the bulk of standing water falls to the capable functionality of our electric submersible pumps. These units can provide a consistent draw of the standing water until the level reaches a manageable 2 inches in depth.
Electric pumps are the extractor of choice because they have one of the most extended lead hoses for discharging water of any of the water removal tools available to our SERVPRO professionals. On a lower floor like the basement, it can be critical to have this longer available discharge line to avoid compromising the prime of the suction. Additionally, utilizing these electric pumps limits the need for ventilation that would be necessary with the use of engine-driven options we might use in other situations.
Because we have a team of licensed (#SERVPE871RD) general contractors on our team, we can patch up damaged portions of plumbing and install necessary fixtures to re-pressurize your lines. It is always a priority of our professionals to make losses. "Like it never even happened," and our capable contractors can ensure that no structural damages require addressing while drying is underway with our centrifugal air movers and refrigerant dehumidification machines.
Appliance failures can lead to substantial water loss incidents in a brief period. No matter when disasters strike, you can reach our staffed emergency line to get in contact with our experienced SERVPRO of North Everett / Lake Stevens / Monroe team. Contact us whenever you need us at (360) 243-8313.