We Have The State Of The Art Equipment To Restore Your Everett Home After Water Damage Strikes
6/17/2022 (Permalink)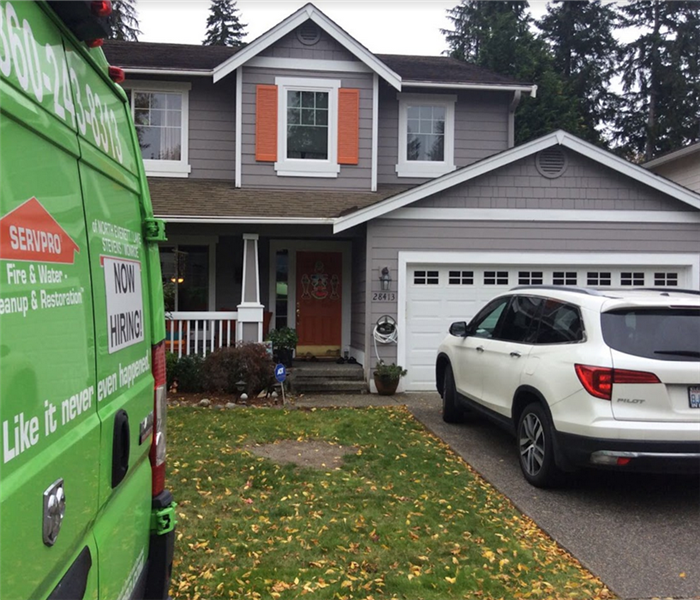 Regardless of the extent of the water damage in your home, team SERVPRO can help with water removal and drying. Contact us right away for best result.
How Controlled Demolition Assists with Water Removal in Everett
When a home receives water damage, finding the location of the water and fast extraction go hand in hand to lessen the loss. This involves a combination of using moisture detection devices, removal equipment, and specialized restoration methods for the best outcome.
During water removal services in an Everett home, SERVPRO technicians may need to use controlled demolition applications to create areas of better airflow for complete drying. This is especially true in the case of a long-term leak causing the water loss incident in the home, and technicians need to check within wall cavities or under flooring for mold growth and ascertain if there is structural damage.
The opening of walls or cabinets may start with small weep holes drilled to allow the dual function of drainage within the area as well as maximizing airflow during drying. More concentrated controlled demolition actions include:
Water delaminates tiles from the floor, and they require removal for both water extraction and drying the subfloor with specialized equipment such as drying mats.
Cutting away water damaged sheetrock above the waterline to stop further wicking of water and allow high airflow within wall cavities. SERVPRO technicians leave the metal studs exposed to ensure thorough drying happens before reconstruction.
Trim may be salvageable through proprietary cleaning and disinfection methods if it has less than 24-hours exposure to water and is solid hardwood without signs of weakening or warpage after drying.
HVAC systems may require disassembly and cleaning if the unit has received water damage.
After a home has undergone controlled demolition as a part of the restoration services, it may look like a step backward. It actually assists with returning the house to dry, sanitary standards more quickly. The easier it is for SERVPRO to use their equipment to deliver dry, warm air to wet areas, the faster they dry the property and guard it against mold infestations.
SERVPRO of North Everett / Lake Stevens / Monroe at (360) 243-8313 is ready to perform any necessary water removal task needed and with their general contractor license #SERVPES871RD, they can repair and restore the home to its preloss condition, "Like it never even happened."