Common Causes of Home Water Damage
7/10/2017 (Permalink)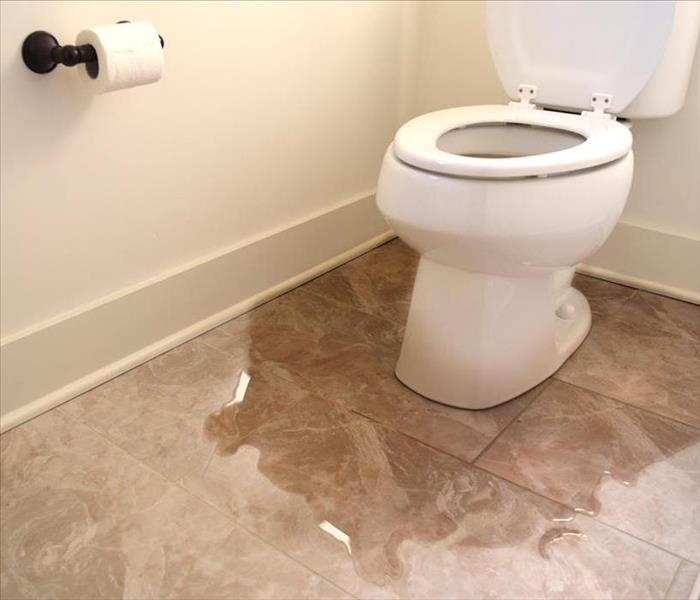 Most causes of water damage are not as obvious as a leaking toilet. Finding the cause of the problem may take some detective work.
It might seem easy to find the source of the water damage if your basement floods, but most causes are not so obvious. Determining the origin of the problem may require a bit of detective work, and simply cleaning up the signs of damage often won't fix the root cause.
Roof Leaks
Small leaks in your roof can lead to large amounts of damage. Flat roofs are particularly susceptible to water damage. Even though most flat roofs do have a slight incline, natural debris, like leaves and branches, can create areas where water can easily build up. Standing water can create cracks and leaks in your roof, which can result in water damage throughout your home.
Even if your roof has a steep incline, debris and freezing temperatures in the winter can create natural dams on your roof. Moss can also cause similar issues as it absorbs water and holds it in place on your roof. Regularly clear moss and debris off your roof to prevent damage.
Gutter Buildup
Ideally, gutters direct water off your roof and away from your home. However, it's easy for leaves, branches, and other debris to clog your gutters. Over time, water will build up and start to overflow onto your walls. Small holes can form as well. Instead of guiding water away from your home, water will constantly leak down its walls. This creates an ideal situation for water damage to occur.
Multi-level homes should regularly inspect the gutters on all roof levels. If gutters start to overflow from a higher level, water can impact lower roofs with greater volume and velocity than rain and cause damage.
Frequently clear out your gutters, especially in the fall or after a windy day.
Broken Pipes
Depending on the location and severity of a broken or leaking pipe, this can be one of the most obvious causes of damage or one of the most subtle.
Winter is a common season for burst pipes. Insufficient insulation can cause pipes to freeze, expand and burst. People might leave on vacation and forget to keep the heat on while they're gone, and the pipes freeze. Rust and age can also damage your pipes.
Unfortunately, it can take a while to notice a leaking pipe, which can give water plenty of time to damage your property. Watch for telltale signs such as lower water pressure, discolored water, or staining on your walls.
Sewage Backup
While you might prefer to avoid sewage in your day-to-day life, tree roots enjoy easy access to sources of water and fertilizer. Tree roots will often grow into and clog drain lines, which causes the sewage to back up and results in water damage in and around your home.
These clogs will often affect multiple drains. If you flush your toilet and hear gurgling coming from the shower drain, you may have a sewer clog. To prevent tree roots from finding their way into your sewage lines, you can install metal or wood barriers running vertically by the lines. Make sure they are buried 6-12" deeper than the pipe.
Toilets and sewer lines can also clog after someone flushes inappropriate items down the toilet. Make sure everyone in your home knows to avoid flushing feminine hygiene products, rags, cotton balls, paper towels, baby wipes, diapers, etc. If it's not toilet paper, don't send it down the toilet.
Broken or Malfunctioning Appliances
As water heaters, washing machines, and dishwashers age, they can develop rust, leaks, and cracks. Even a small trickle of water can cause damage over time. Keep an eye on your machines as they get older. Watch for any decreases in performance, and inspect the appliances regularly.
These are a few of the more common causes of water damage. The truth is, wherever there is water in your home, there is a potential for damage if something goes wrong. At SERVPRO® of North Everett/ Lake Stevens/ Monroe, we know how to fix water damage at the source of the problem. Using our experience and training, we offer long-term solutions to make your home "Like it never even happened."
We know that water problems can occur at any time, which is why we offer 24-hour emergency service. If you find signs of water damage in your home, don't hesitate to call us at 360-243-8313.