The Catastrophic Fires of Everett.
1/12/2021 (Permalink)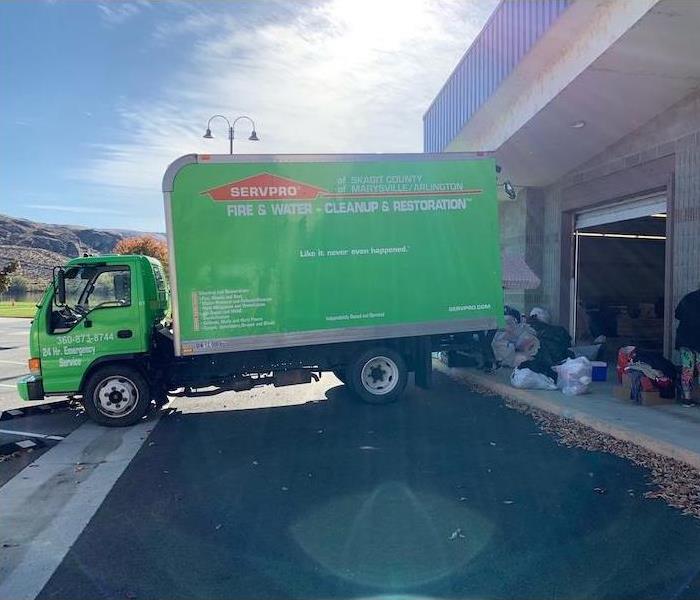 Fire restoration is no easy task. Leave it to the professionals at SERVPRO. Their certified technicians, and the latest technology and equipment.
Severe Blazes Have Significantly Impacted Everett on More Than One Occasion.
Although Everett is a relatively new city, having been established only in 1890, it has experienced more than a few severe fires. These blazes have mostly impacted industrial sites since the area has largely been dedicated to industry but has also destroyed numerous commercial establishments and at least one large residential development. The first of Everett's major fires was the Great Courthouse Fire of 1909, which was so catastrophic that it actually threatened the city's survival. After this event, and into the present day, the community has suffered a long series of industrial and commercial fires. The city's most recent significant fire-related incident, the apartment complex blaze near the marina on July 16th, 2020, could prove to be one of its worst.
Snohomish County Courthouse Fire of 1909
The Snohomish County Courthouse Fire of 1909 is certainly one of Everett's most infamous calamities. It started on August 2nd in a downtown blacksmith shop and quickly spread to the nearby courthouse. Windblown embers from the inferno started various fires around the city, while arsonists ignited others. In the disaster's wake, a total of twelve buildings had been destroyed, and several other structures had been damaged. The most significant destroyed buildings included:

The Snohomish County Courthouse

Buildings of the Everett Livery and Transfer Company

Iles and Newman Carriage Works

J.K. Healy Blacksmith Shop

The Northern Transfer Company

As you can imagine, these losses devastated the fledgling city's downtown governmental and commercial center.
The Lasting Effects of the 1909 Fire
The true significance of the 1909 fire was that it struck at the heart of the newly established mill town, highlighted its vulnerabilities, and evoked lasting fear in the minds of its business owners and residents. The panic generated by the disaster largely resulted from how:

Quickly the fire spread through the town's mostly wooden structures.
Ineffectively the local fire department fought the blaze due to its lack of water and manpower.
Severely the event affected the governmental and commercial heart of the city, nearly destroying the county's records and eradicating the community's business district.
Insurance companies refused to cover about half of the overall damages incurred by business owners and other residents.

In response to these concerns, Everett's fire department was given more funding, which allowed it to hire more men and buy better equipment. Also, local builders and business owners became more mindful of the potential dangers of wooden construction and began incorporating other materials into their structures.
A Long Series of Industrial and Commercial Blazes
After the catastrophe of 1909, as the community rapidly expanded into a thriving industrial city, fires became a relatively regular occurrence at the local mills. The community's newspaper, the Everett Herald, even suffered one in the ensuing years. Some of the more notable of these fires were the:

Jamison Lumber and Shingle Company fires of 1928 and 1967
Clough-Hartley Shingle Mill Blaze of 1937
Everett Herald Fire of 1956
Hulbert Mill Fire of 1956
Pilchuck Lumber and Shingle Company Fire of 1967

Of these mill blazes, the Hulbert Mill Fire of 1956 was particularly severe. It caused approximately $500,000 worth of damage to the company's property, buckled nearby railroad tracks, threatened homes and businesses on Grand Avenue, and took four hours to extinguish.
The Notorious Tire Fire of 1984
One of the more unusual disasters to befall Everett was the Tire Fire of 1984, which started on September 24th of that year and continued burning until May of 1985. It occurred at a used tire collection site, located over an old capped municipal landfill, and involved the burning of a mound of approximately four million tires. The suspected arson produced a billowing black mushroom cloud of smoke filled with waste zinc, methane gas, and other toxins. At the same time, built up gases in the flaming mound shot fiery tires hundreds of feet into the air. Eventually, the cloud blotted out the sun across the city, rained down harmful black soot onto businesses, homes, and sidewalks, and caused area residents to experience negative health effects.
More Recent Fire-Related Events
In recent years, stores and residential areas have more often been the sites of fires in Everett. Two noteworthy blazes of the past few years are the Judd & Black Appliance incident in 2018 and a large apartment complex fire that demolished a large apartment complex down by the marina in 2020. Both resulted in total losses, but the latter event caused nearly $30 million in damages.
As you can easily understand, fire is a serious threat to your Everett area business. However, rest assured that if you ever need assistance remediating fire damage, SERVPRO of North Everett/Lake Stevens/Monroe is always here to help. Call us anytime at (360) 243-8313.
How Do We Clean Up Your Fire Damage?
When handling your fire damage cleanup and restoration job, SERVPRO employs all of the latest industry training, techniques, and equipment to do it right the first time. Once our highly-skilled technicians are onsite, they effectively remediate your business by:

Forcing smoke-filled air from your home with state-of-the-art air movers and high-velocity box fans
Extracting smoke particles from interior surfaces and air with cutting edge air scrubbers
Using HVAC cleaning systems to remove soot residues from and sanitize ventilation networks
Employing Vaportek systems and ozone generators to neutralize odorous airborne particles
Cleaning acidic residues off affected surfaces with wet, dry, or abrasive methods
Treating upholstery and carpeting with deodorant injection devices
Using cutting edge foggers to deodorize impacted spaces and materials

Once all of these measures have been taken, your home and its contents are often back to their pre-fire condition.
With all that said, if you ever experience a fire-related incident and need fire damage remediation, SERVPRO of North Everett/Lake Stevens/Monroe is always here and ready to help. If contacted soon enough, we can often successfully clean up and restore even the worst fire-related issues. So, whenever you need us, call (360) 243-8313.