Steps to Remove Fire Damage Odors in Everett Offices
6/17/2022 (Permalink)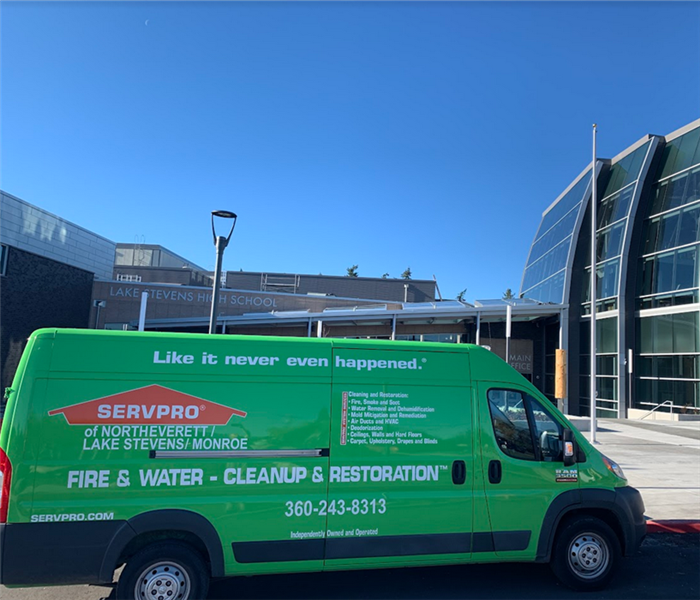 Dealing with fire damage in your school or office has its own unique set of challenges. Contact SERVPRO for knowledgeable technicians and equipment.
Fire Damage Deodorization Involves Several Steps
Your office combines materials like carpeting, wood, drywall, and other structural elements. When a fire occurs, damaging effects like soot, smoke solids, and odors can spread rapidly through the structure. Our rapid response helps to mitigate and ultimately remove lingering fire malodors.

What Causes Harsh Odors?

Fire damage in Everett offices can often mean the offensive odors structure fires can leave behind in the building. Combustion of various material types can create unique and formidable malodors.
Reducing the Presence of Malodors
Early and direct actions can be taken to lessen the severity of smoke odors. By reducing the strength of these smells, they become more easily neutralized by later deodorization efforts. Initially, our SERVPRO team can work on:
Surface Cleaning
Debris Removal
Masking Imaginary Smells
Fogging the Damaged Areas
One of the more effective counteractant measures to begin overcoming strong smoke malodors in the office is ULV or thermal fogging. This process superheats a concentrated odor neutralization compound to a vaporous state. Dispersing this vapor allows for penetration into porous materials and through the open areas of the office workspace in a fast and portable manner. The mobility of foggers makes them a preferred method of initial deodorization.
Deep Deodorization with Advanced Tools

Counteractant approaches are only good for lessening the severity of the smoke smell but rarely eradicate it. SERVPRO professionals rely on our effective deodorization equipment like hydroxyl machines and ozone generators. The chemical actions neutralize the offensive pungent odors.
One of the noticeable byproducts of combustion is the strong malodors it creates. Overcoming smells from a fire can be an intricate process suited for the advanced equipment and effective products of our SERVPRO of North Everett / Lake Stevens / Monroe team. Give us a call when disasters threaten your business at (360) 243-8313.