How Effective Are Professional Water Removal Methods for Large Commercial Losses in Everett?
6/10/2020 (Permalink)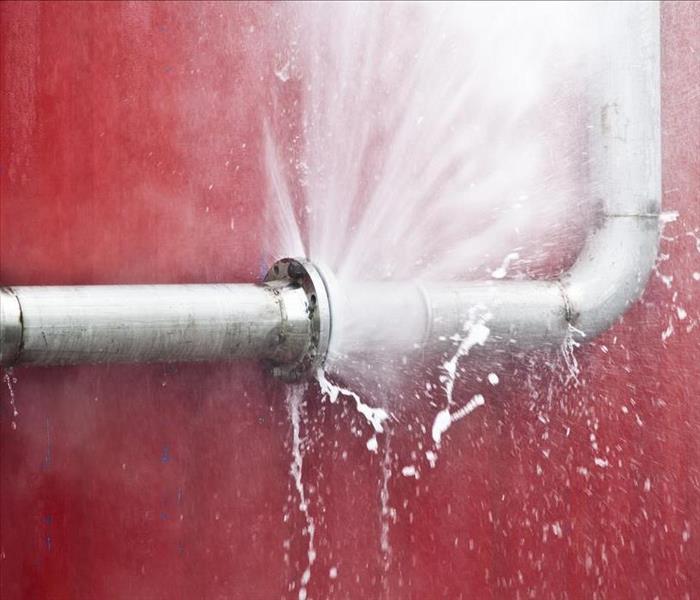 Don't let a burst pipe stop your business from opening up. Call the professionals from SERVPRO to mitigate your water problem, work around your time.
SERVPRO Offers Scalable Water Removal Strategies When Your Everett Furniture Showroom Is Swimming After a Main Supply Line Is Cut
Workers remodeling the warehouse space adjacent to your Everett furniture distribution center inadvertently cut through a large supply pipe, flooding your commercial space with fresh water. Fortunately, the crisis happened while you were on-site, so you and your staff were able to move stock and place floor models up on blocks to minimize swelling of wooden frames and rusting of metal legs.
How Do I Get the Water Out of My Furniture Store's Carpeting?
Your Everett showroom needs water removal immediately, before your investment of thousands of square feet of carpeting is ruined. The carpeting makes it easier for customers to imagine your furnishings in their homes, but that same carpet might need removal and disposal if professional extraction is not completed in time to avoid secondary damage like mold growth. Our technicians have considerable experience and skill in carpet water extraction, so your choice of our team is a wise one.
What Is In-Place Drying?
It is impractical to try to remove wall to wall carpeting under most circumstances, even in smaller spaces. The vast expanse of carpet in your furniture store would create a severe disruption of your business if the carpet were removed for cleaning and drying after a water loss. SERVPRO might recommend a version of in-place drying of carpeting saturated with relatively clean water for the following reasons:
The wet carpeting is incredibly heavy when wet
Detaching and moving carpeting can cause stretching and tearing
Handling of wet carpeting can encourage delamination (separation of fibers from the backing)
Your inventory would need to be removed entirely from the space
How Do Technicians Proceed When Doing In-Place Drying?
First, we make sure that your floor models are raised or rest on foil to prevent the transfer of paint, stain, or rust to the carpet. Technicians then use truck-mounted wanded extractors to control the migration of water if there are areas still dry in your store.
Extraction During In-Place Drying
Because the timeframes for avoiding secondary damage remain short, extraction has to be fast and aggressive. Specially weighted extractors exert tremendous pressure with each pass to force as much water out of the carpet fabric as possible. Technicians often add their own weight to the extractors, riding on them to remove water quickly and efficiently.
Pattern During In-Place Drying of Large Expanses
We divide the space into areas of about 10 feet square and extract the fluid out of these smaller areas. Periodically we stop to check the pad, rolling and squeezing a section to see if water still flows. Only when no water squeezes out of the pad is that section considered dried. Multiple weighted extractors might be required as it takes about 1 hour to extract 300 square feet.

Final Drying
Our drying specialists calculate how many air movers and dehumidifiers are needed to reduce the moisture to normal levels. In general, one air mover can dry 50 to 60 square feet effectively, so we position as many as indicated as well as adequate numbers of dehumidifiers.

Is There an Alternative to In-Place Drying?
We might determine that rolling back the carpet and removing the pad is more appropriate. Padding is relatively inexpensive to replace, and it holds a lot of water. Instead of moving the carpet out, tenting or venting it with extenders attached to air movers can speed drying. Sometimes we refer to "floating" a carpet, where we raise portions, and direct warm air underneath to dry the wet fibers before mold or other secondary damage takes hold.
How Does SERVPRO Manage Other Types of Flooring?
Some spaces in your showroom may feature laminate flooring over concrete or resilient tiles. Laminate materials are inexpensive and not particularly durable after water saturation. Usually, they must be removed and replaced after water damage. Solid flooring stands up well to water, removable by squeegees and wanded extractors.
Can Hardwood Floors Survive Commercial Water Damage?
If some areas of your furniture store have strip or plank hardwood, we recommend negative pressure drying mats to suction water above and below the surface. We also consider loosening sections, propping them up, and directing warm air under and over so they dry evenly.
Investigate all the recovery options we offer business owners. SERVPRO of North Everett / Lake Stevens / Monroe is eager to develop business partnerships in our community, ready to assist when water or other disaster strikes. Call us at (360) 243-8313 for a consultation after a plumbing mishap or other water loss.
Contractor Licenses:
General: SERVPES871RD