What Can Be Done About a Possible Mold Infestation in an Everett Local Studio?
10/18/2020 (Permalink)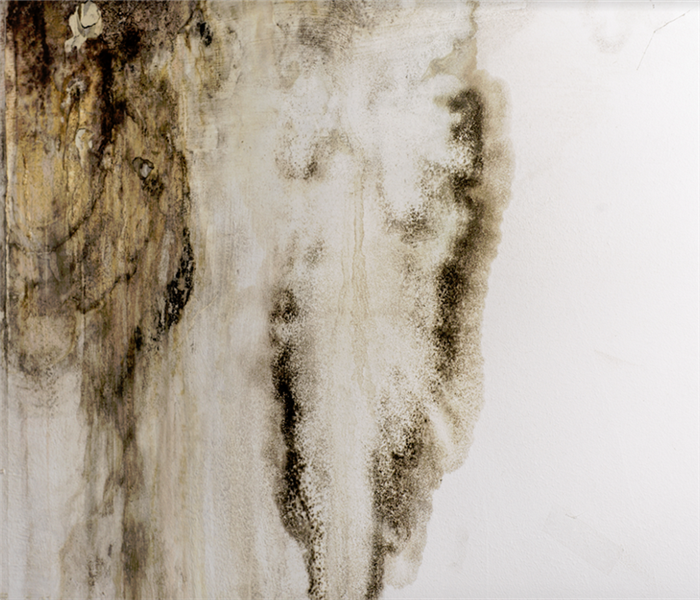 Mold can quickly become an infestation that spreads through your studio. Contact our certified technicians to inspect and remediate.
SERVPRO Are Experts in Mold Remediation and Provide Fast Assistance in Everett
Everett is home to many different types of artistic ventures. From recording studios to local portrait artists, it is a diverse community. In this situation, a local artist found mold in his studio. He was wise to call in SERVPRO for professional mold remediation help immediately to contain the spread. Not only were his blank canvases and other art supplies at risk from mold damage, but his finished pictures on display as well.
Can SERVPRO Remove All the Mold in the Studio?
If you believe your business needs a mold inspection in Everett, you are probably seeing or smelling signs indicating a problem. Understanding how mold grows and develops is vital to understand mold remediation.
Mold spores are everywhere. These microscopic particles travel through the air and get transported on anything that moves.
Mold colonies develop and grow when they have a food source and moisture.
High humidity levels create a perfect growing environment. Buildings should be kept at a humidity level of less than 45%.
Water causes mold spores to swell. As they grow, the hyphae attach to the materials. Some grow downward like a root, and others spread across the surface.
Mold and mildew produce a strong, musty odor that is unmistakable.
Standing water and moisture must be removed from the impacted area, or the mold can return.
Because of the nature of mold spores, no restoration or cleaning company can remove all mold from a building. The spores are out there, and there is nothing that can be done about it. What can be removed, in many situations, is the mold that has produced on walls, cabinets, and other materials. The environment in which it thrives can also be controlled.
What Can Cause Mold in Businesses?
Anytime there is moisture, spores can germinate into mold colonies. If you think you have hidden mold consider the following:
Have you had HVAC problems?
Has there been recent flooding or water damage?
Do you notice musty odors?
Are there water stains or discoloration on walls or ceilings?
Do you have leaky pipes or machinery?
If you have dealt with any of the above, then you may have hidden issues that need dealing with quickly. SERVPRO's technicians are certified in mold remediation. They can provide a mold inspection and verify whether you have colonies behind walls or other cavities that are not easily visible.
What Type of Material is Impacted?
When mold spreads throughout an Everett building, structural elements and the content can be affected. In this case, an artist's studio had an outbreak. In a studio such as this, there are hygroscopic materials that mold loves. These porous items absorb water readily, making them fodder for colonies as both a water and food source. Mold can grow on and damage materials such as:
Artist materials – canvas, brushes, wood frames, and finished paintings.
Drywall
Foundations
Roofing & gutters
Furnishings
Linen, clothing such as artist smocks
How Does SERVPRO Perform a Mold Inspection?
Our Institute of Inspection, Cleaning and Restoration Certification (IICRC) certified technicians understand the impact mold can have on a business. It can shut you down and also influence your customer base negatively. SERVPRO techs use advanced technology and equipment for mold inspection and remediation. We use infrared cameras to find hidden pockets of moisture that can lead to mold. Digital moisture meters provide the moisture percentage on the material involved. Indoor air quality (IAQ) meters help record air quality metrics that allow technicians to ascertain indoor conditions.
If you have a problem with mold in your commercial space, SERVPRO puts together a mold remediation plan suited to your needs. You might need an Industrial Hygienist (IH) to assist in the process if your business requires it.
Mold Remediation Process
The process begins with containment using physical barriers, air scrubbers, and HEPA filters to prevent the spores' spread while mitigation is taking place. When it comes to mold removal, either the mold is removed or the contaminated materials get disposed of properly. If the hyphae are deeply embedded, technicians may not be able to clean the surface. Agitative action such as scraping and techniques like soda blasting get used to remove mold.
Dust is a byproduct of mold cleanup as well as settled mold spores. SERVPRO uses vacuums with HEPA filters to clear the dust. Surfaces are wiped down as well. Once the mold is removed, and the studio is clean, the area then is dried. EPA-registered antifungals and antimicrobials get applied to all affected surfaces. In some situations, sealants are applied to surfaces to prevent water absorption and the return of the problem.
Do not let your creativity and income become stifled because mold takes over your studio. Contact SERVPRO of North Everett / Lake Stevens / Monroe at (360) 243-8313 and let us provide mold inspection and remediation.