How to Prevent Fires in the Office
9/15/2017 (Permalink)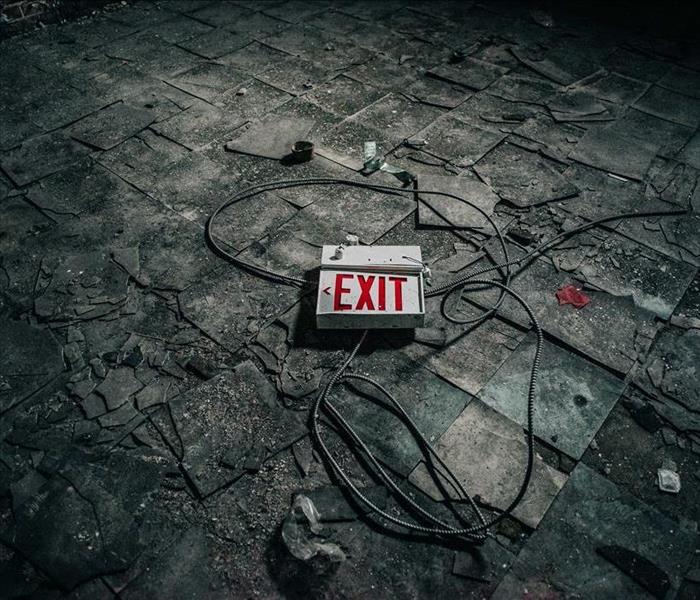 Office fires lead to millions of dollars of damage every year. Simple changes in your office can prevent damage like this.
Have you reviewed your office's fire prevention and safety procedures recently? Office fires lead to millions of dollars of property damage every year as well as employee injuries and deaths. Simple changes in your office can both prevent fires and prepare your employees for emergencies.
Avoid Overloading Circuits
Outlets were only designed to handle so much. You may be tempted to use power strips to plug in as many devices into each outlet as possible, but overloading your circuits can lead to fires.
Talk to your electrician to set rules for the outlets in your building, and communicate these rules to each of your employees.
Clear the Clutter
It's easy to let paper, boxes, and the like clutter desks and other work areas. However, clutter provides easy fuel for fires to grow and spread faster. Boxes of papers near a stairwell or door can easily catch fire and block potential exits during an emergency.
Most accidental office fires start in the kitchen. It's important to keep flammable materials away from kitchen equipment such as coffee machines and hot plates. Clean these appliances regularly so they can function properly.
Make sure all heat-producing equipment has room for air to circulate around it, especially copy machines, computers, space heaters, and coffee machines.
Shut Down Appliances & Equipment
While most office fires happen during the day, the most damaging fires happen while everyone is gone for the night. Choose a designated person to sweep through the office and turn off electrical appliances at the end of each work day.
Examine all electrical equipment employees bring in, such as space heaters and lamps, to make sure they are in good condition. Require employees to unplug these devices when they leave as well.
Establish a No-Flame Rule
Don't allow employees to use lighted birthday candles or burn scented candles at their desk or in break rooms. Remember, accidents with small flames can lead to big problems.
Watch the Wiring
If any of your office's electrical cords show signs of damage such as fraying or tears in the plastic covering, replace them immediately. Encourage your employees to report any defective wiring as well. Exposed wiring can encounter moisture, which may cause short circuiting and fires.
Don't run cords across the floor where people may step on them or roll over them with carts or chairs. This leads to damaged cords, which can, in turn, lead to a fire hazard.
Secure the Building
Arson accounts for a significant portion of office fires. Lock up your building securely every night. Make sure any parking lots or alleyways near your building are well lit. You may want to invest in a security system as well.
Create and Implement an Office Evacuation Plan
Consider talking with your local fire department to create an office fire safety and evacuation plan. Identify all possible exits in your office, and establish an evacuation protocol including office safety officers and meeting places. Print out copies of the plan that highlight exits, escape routes, and meeting places.
Display your office evacuation plan in high employee traffic areas, like break rooms. Go over the plan with all new employees, and schedule fire drills every few months to practice.
Equip your office with fire safety items such as smoke alarms and fire extinguishers. Your fire department should know the exact requirements for your building.
At SERVPRO® of North Everett/ Lake Stevens/ Monroe, we can create an Emergency READY Profile for your business. When disaster strikes, you don't want to spend time trying to figure out who to contact for what. Our ERPs include a detailed assessment of your facility along with a profile document and guide to getting you back to business faster after an incident. We even offer a mobile app for convenience.
Even small fires can leave significant property damage; smoke can enter your ventilation system and spread soot and debris throughout your building. We can accurately assess fire and smoke damage and help make your office "Like it never even happened."
If you've had a fire in your office, or if you want to set up an Emergency READY Profile, call us today at 360-243-8313.