Who Do You Call For Water Cleanup At Your Everett Business Place?
4/14/2021 (Permalink)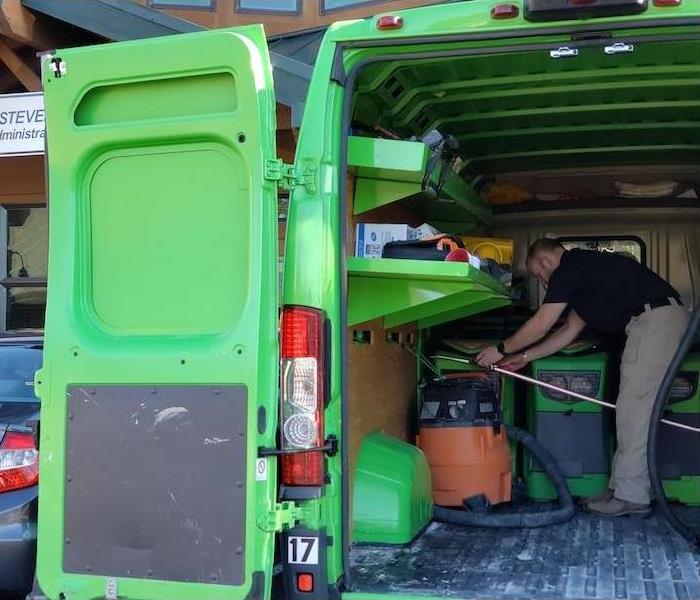 Call SERVPRO for any type of water removal and remediation efforts you need. We can get you back to work in no time.
SERVPRO Delivers Commendable Water Damage Remediation in Everett
Most people only know Everett as the home of Boeing's massive manufacturing plant that produces larger aircraft, such as the 747 and 777. However, there are diverse, exciting aspects of this city that serve as the seat of Snohomish County. There is a historic vibe in the area, considering most of the old homes built in the 1890s still stand, offering you a chance to live in homes over 100 years old. Fourteen properties in the city are listed in the National Register of Historic Places.
Where to Unwind in Everett
The Port of Everett Marina is distinguished as the largest on the West Coast. It offers the public 2300 permanent boat slips. An additional 5000 lineal feet is available for guest moorage. The waterfront is an excellent place to spend quality time with loved ones or unwind. The main attractions include:
It is a 2-acre regional park that transforms into a hive of activities during the summer months. It stretches right into the water and offers a perfect location for lazy picnics, watching sunsets, or throwing frisbees.
The waterfront has a paved, 4-mile trail perfect for those who love hiking, biking, or walking. The landscape along the trail is lovely, and so you can take memorable photos.
During summer nights, the Port of Everett Marina docks transforms into an outdoor entertainment area where you can enjoy beer and wine or put your best foot forward.
The Everett Sandy Island has over a mile of sandy beach and shallow warm water. It is perfect for activities such as Kiteboarding. However, it is only accessible on personal watercraft such as a boat, canoe, or kayak.
Everett is primarily a blue-collar city. People are friendly in the area, so you are likely to get many offers for help if your business is damaged by water intrusion. Common reasons for water damage in the area include the usual plumbing problems such as burst pipes. However, since the weather is mostly rainy, ceiling leaks and other weather-related intrusions also affect properties. Before accepting assistance, it is necessary to evaluate whether the provider can deal with challenging issues like:
Water clean up
Ceiling repairs from water damages
Water damage repairs
How Does SERVPRO Manage Water Cleanup Differently in Everett Business Premises?
Water intrusion into a commercial establishment presents many challenges apart from leaving materials and surfaces wet. Cleanup processes must address all the issues that arise, including identifying and removing deteriorated materials.
Before starting the cleaning process, our SERVPRO technicians evaluate the property thoroughly to establish issues like:
The extent of moisture migration
The level of material deterioration such as staining, rusting, or chipping of finishes
Whether there is mold or other microbial development
Apart from the general evaluation, we also note the specific areas affected, ensuring we know where to apply or avoid specific processes. Our SERVPRO technicians take photos and videos during evaluation for proper record keeping. When cleaning, we use various methods, including hot water extraction, pressure washing, and chemical agents, to guarantee the right outcome.
SERVPRO of North Everett / Lake Stevens / Monroe is a seasoned provider offering water cleanup services. Call us at (360) 243-8313.