The Chore Schedule: Preventing Mold with Regular Cleaning
3/17/2017 (Permalink)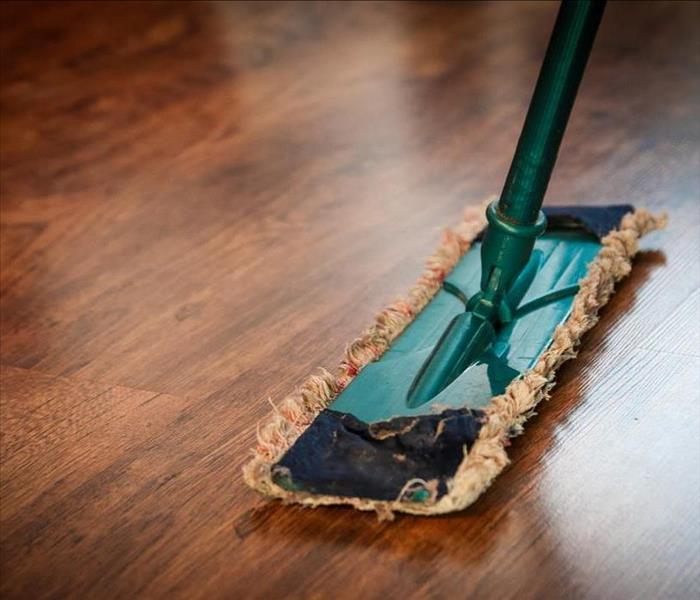 Do you know how often you should clean everything in our house? Follow this chore schedule to reduce the risk of mold growth in your home.
Mold spores need moisture and food to flourish—but it can survive, dormant, without moisture, for a long time. In the meantime, dirt and grime can build up large reservoirs of food to feed the mold. Regular cleaning removes dust, dirt, grease, grime, and other potential feeding sources for mold.
Of course, you don't need to deep clean your house every day. Use this basic guide to determine how often you should perform household chores.
Daily
Some molds can start growing on moist surfaces in as little as 48 hours. It's important to clean wet surfaces often so mold spores won't have any food. Performing these daily chores helps prevent small messes from becoming larger, stubborn problems.
Wash all dishes
Wipe down sinks, counter tops, and stoves
Clear any clutter
Collect dirty clothes left on bedroom or bathroom floors
Hang up bath towels after use
Wipe up any spills
Hang up and/or wash wet clothing
Sweep the kitchen floor
Take out any full or nearly full trash cans
Twice a Week
The difference between whether a chore should be done weekly or twice a week is often determined by the size of your living space and the number of occupants. Most of these chores can be done weekly if you live alone. If any surface starts to be visibly dirty adjust your cleaning schedule accordingly.
Vacuum high-traffic areas
Do the laundry
Sweep any hard-floor entryways
Weekly
Over the course of a week, even with regular daily chores, dirt, dust, and grime build up throughout your home. Luckily, if done every week, these simple chores can help cut down on potential food sources for mold.
Vacuum low-traffic areas and rugs
Scrub toilets (spot-clean as necessary)
Clean the shower/tub
Dust surfaces throughout the house
Throw out expired food in refrigerator/freezer
Clean sinks and mirrors
Sweep and mop bathrooms and all hard-floor surfaces
Wipe down the oven door
Wash bed sheets and towels
Monthly
As mentioned previously, different households will require different cleaning schedules. Homes with kids, pets, or several occupants will likely need some chores done more regularly than homes with just one or two people.
Wash the windows
Wipe the baseboards and doors
Wash mattress covers
Wipe down the inside of your refrigerator
Clean your dishwasher
Seasonally
Even if you stay on top of your daily, weekly, and monthly cleaning, dirt and grime will still build up in some spaces. Help avoid mold growth by tackling some of these less common chores.
Scrub the oven (do so every 3-6 months)
Remove all food from your refrigerator and freezer (keep the food in coolers), and thoroughly scrub the inside of the appliances
Vacuum and flip your mattress
Wash your blankets/duvets and pillows
Replace or clean filters
Wash rugs per the instructions on their tags
Vacuum window screens
Move and clean under furniture
Changing seasons often means changing clothes. If you store clothes seasonally, make sure all items of clothing are laundered, dry, and neatly put away. Damp, dirty clothing is an ideal growing place for mold.
Annually
Even with regular care your home will likely suffer some signs of wear and tear that can't be solved with a daily quick sweep or wipe down. These annual chores will help your home and belongings last longer and can help take out some of mold's most stubborn food sources.
Shampoo your carpets/Get them professionally cleaned
Clean furniture/upholstery
Soak your shower heads
Clear and dust your bookshelves and books
Regular cleaning and home maintenance can help deny mold the food it needs. However, mold is tenacious in its efforts to find somewhere to grow. If you find mold in your home, or suspect it is growing in areas you can't see, call SERVPRO® of North Everett/ Lake Stevens/ Monroe.
We will assess your home and start our mold remediation process. You can trust our training and experience to make your house "Like it never even happened." Call us anytime, we offer 24/7 emergency service at 360-243-8313.