Using Your 3 Senses to Find Mold in Your Home
9/29/2017 (Permalink)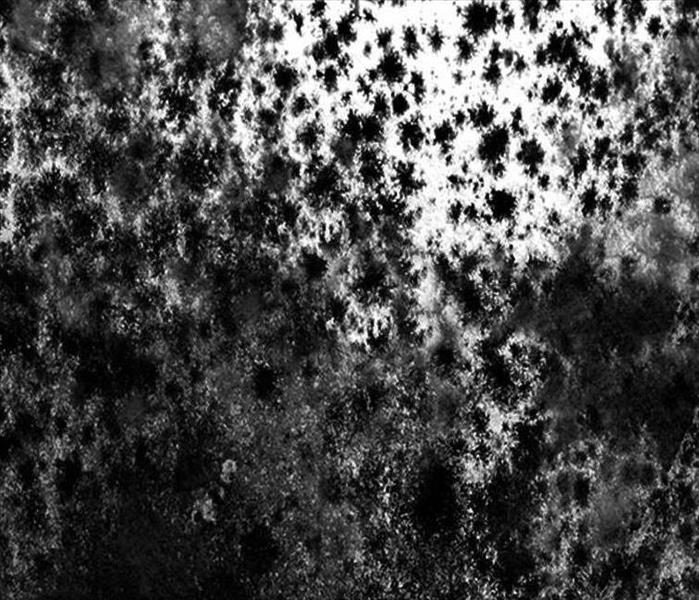 It's important to be able to identify potential mold growth in your home; luckily, three of your senses can help you find the common signs of mold.
Mold spores can exist just about anywhere inside or out. Unfortunately, that means it's easy to develop a mold growth problem wherever moisture and a food source are present. However, there are many things you can do to control mold growth in your home.
It's important to be able to identify potential mold growth in your home; luckily, three of your senses—sight, smell, and touch—can help you find some of the more common signs of mold.
Sight
The most obvious indication you have mold is seeing the mold itself. Mold tends to accumulate in moist, dark areas. Common places you might see mold include:
Window sills
Spoiled food
Beneath counters
Bathtub grout
Inside toilet
Shower curtains
Attics and crawlspaces
Unfortunately, if the mold growth amount is small, many people assume it's something else like dirt. If the mold is an unexpected color, some homeowners ignore it as well. Mold can come in a variety of colors like:
White
Green
Black
Yellow
Gray-brown
Pink
Orange
Purple
Pink, orange, and purple molds are less common, but they can show up behind wallpaper.
There are other visual indicators of possible mold, even if you don't see the mold itself. Watch for water stains on your ceilings or walls. Look for leaking pipes and faucets as well.
Smell
Of course, some mold is hidden from view. Fortunately, your sense of smell can help point you in the right direction. If you notice a strange odor in your home, particularly if the smell is stronger in certain areas of your home, this may indicate you have mold.
Mold has a musty, distinct odor. The smell could also be described as stale, wet, and earthy. Moldy food may give off a more rotten smell.
Touch
Your sense of touch can help you identify mold risks. As mentioned before, mold flourishes in damp environments.
Pay attention to wet spots on your carpet. If your carpet feels soggy, do a little detective work and find out if anyone has spilled liquid in the area recently. If not, or if the spot consistently remains wet, you may have a leak, which can lead to mold.
Watch any wet, or warped, spots you feel on your walls as well, as they can also be a sign of water damage and mold.
Essentially, any time a surface in your home feels consistently wet without an immediate explanation, you might have a leak somewhere. Unfortunately, damp surfaces with food sources are perfect for growing mold.
Black Mold
Perhaps the most infamous of all mold is black mold. It's important to note that not all mold that is black in color refers to the specific toxigenic variety that people worry about.
Stachybotrys Atra (or Stachybotrys chartarum) is commonly referred to as "black mold". It has been linked by the Institute of Medicine to respiratory issues, like coughing and wheezing, in otherwise healthy people. It has also been linked with more severe symptoms in people susceptible to specific respiratory conditions.
It is often a dark green-black or gray color, and it may look slimy. It may also seem dry and powdery if it loses its water source. It gives off the typical musty, mildew smell common to other types of mold.
It is very easy to mistake black mold for other types of mold and vice versa. If you find signs of mold in your home, you should call SERVPRO® of North Everett/ Lake Stevens/ Monroe to start the identification and remediation process.
We can help you locate both apparent and hidden mold in your home. We can also help find and fix sources of moisture that may have contributed to the mold problem in the first place. Call us at 360-243-8313 today.