Challenges Fabrics in Everett Homes Present After Fire Damage
8/11/2022 (Permalink)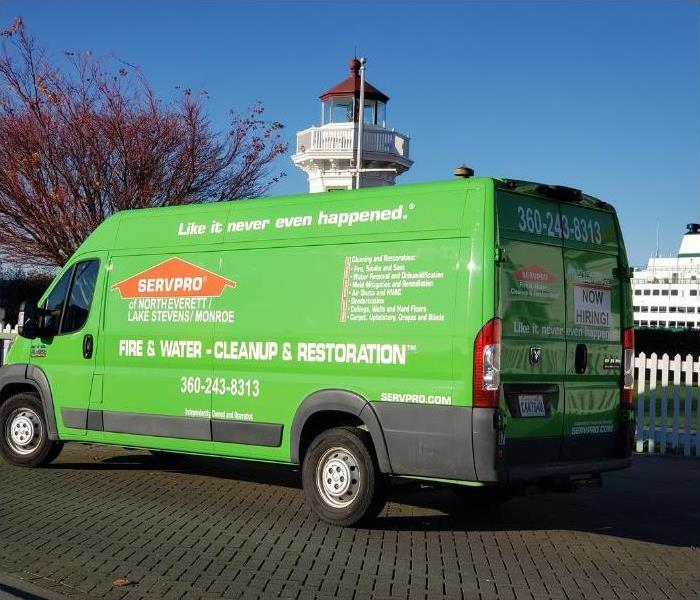 You can trust that your Everett home is in good hands with the technicians at SERVPRO with the equipment and training to help restore your home.
Better Prepared SERVPRO Eases Everett Fire Restoration
You might be expecting significant physical damage in your Everett home when it is engulfed in a fire. However, when there are limited combustible materials to sustain it, or the firefighting response is rapid enough, the flames can die down before they cause extreme fire damage. However, that does not always save you from significant restoration work. Widespread soiling is likely, and some affected materials like area rugs can be challenging to clean.
Ordinarily, soiling in Everett homes after fire damage arises from smoke residues settling on surfaces. Vertical surfaces such as walls and elevated areas like the ceiling collect most of the deposits as the smoke rises since it is hotter than the surrounding air in the rooms. However, soiling on the floor and other lower sections of the house is also likely. Such soiling may be caused by the people who enter the property during the fire or immediately after it is put out. Foot traffic spreads soot and other residues and sets such materials because people's bodyweight forces them deeper into the fibers of materials. When SERVPRO handles restoration, carpets and rug soiling can be limited through a cautious entry. We also use professional cleaning approaches.
Steps for cleaning area rugs
Pre-inspection
Pretesting
Cleaning
The challenge of cleaning fabrics during fire restoration is often aggravated by misunderstanding all aspects of the problem. The fibers in materials and the soils deposited from combustion vary and can lead to a complicated or straightforward restoration process. Our SERVPRO technicians avoid such headaches by taking steps that provide sufficient information about the loss. Pre-inspection and pretesting help avail the necessary information.
How Pretesting Differs from Pre-Inspection
Pre-inspection helps establish the level of problems affecting the fabric. The issues include those created by the fire and any pre-existing ones. SERVPRO does restoration to a preloss state, so any changes developed before the fire might be beyond the scope of the restoration procedures we implement.
Pre-inspection establishes
Level of soiling
Color changes
Symmetry and wear
Insect damage or infestation
Pretesting is equally essential in resolving fire-related problems. Among other things, it helps establish the best cleaning approach. Because most area rugs are patterned or multicolored, they can be permanently damaged by shrinkage, dyes running, staining, and other problems that develop during the cleaning phase.
Pretesting involves simple or advanced processes that help establish the characteristics of the affected fabrics, especially any vulnerabilities. Our SERVPRO IICRC UFT-Certified technicians identify an inconspicuous rug section and apply a small amount of the strongest cleaning product we intend to use during restoration. We then clamp a white towel over the spot. If the agent can cause dye bleeding, color should be transferred to the towel within 15 minutes.
Other crucial tests include shrinkage and chemical tests. These tests offer guidance on the ideal pH levels for cleaning solutions and the safe temperature to use if the cleaning solutions are heated. In most cases, a pH range of 4.5 to 8.5 is ideal. Restorers should also keep the cleaning solution temperature below 150°F. We also take additional precautions, such as asking for a copy of the manufacturer's cleaning directions if you still have it.
SERVPRO of North Everett / Lake Stevens / Monroe takes care of challenging cleaning tasks restoring fire damage "Like it never even happened." You can reach us at (360) 243-8313.