Everett Homeowners Benefit From Clear Information on Mold Damage
3/20/2023 (Permalink)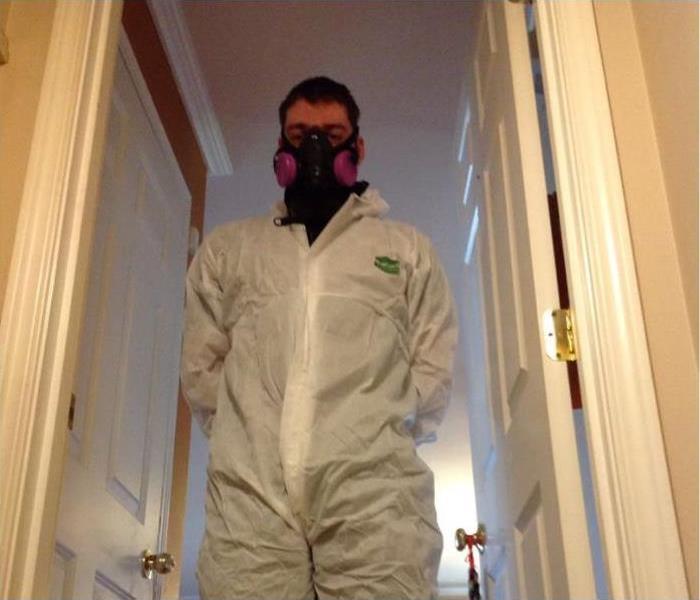 Our SERVPRO technicians are ready with personal protective equipment and equipment to remediate mold damage in Everett.
SERVPRO Resources Simplify Everett Mold Restoration
It is common to feel apprehensive and even demand immediate answers when you notice signs of mold damage in your house. You may feel that the information you seek, such as whether the contamination is restricted to one area or widespread, is hard to come by, or the professionals you seek help from do not clearly understand the problems you face. SERVPRO can allay any fears regarding the infestation at your Everett home by listening to your concerns and exploring viable remediation procedures.
The approach used by the company handling Everett households with mold damage plays a critical role in determining the level of satisfaction for the affected parties. With any property loss, apportioning the blame or showing a superiority complex to the aggrieved party serves no purpose and only heightens the feeling of dissatisfaction. SERVPRO crews show empathy since we understand it is not your desire to stay in a contaminated house. Also, instead of coming across as superior and know-it-all, we choose to listen and take good notes that can elucidate the genesis of the problem.
Crucial information that helps:
History of past water leaks
History of structural repairs
The state of appliances or fixtures
The primary trigger of any cases involving mold is moisture reaching unwanted house areas. Such moisture can accumulate for various reasons, including structural breaches such as roof leaks or plumbing leaks. Sometimes, negligence is to blame rather than the severity of the leak. For instance, when leaks occur, and no one bothers to check concealed areas such as wall and floor cavities, they can act as moisture reservoirs that sustain the mold colonies that sprout later. Improperly fixed structural areas can fail quickly, creating new moisture sources. Repairs can also interfere with other things, such as the ventilation systems leading the structure to retain humidity. Such background information helps SERVPRO develop the right strategy to fight mold over the long term rather than only resolve immediate contamination.
Feedback on Mold-related Issues
Sometimes you may doubt the solutions suggested by a restorer because of how the information is laid out. Our SERVPRO crews observe ultimate professionalism throughout the process. For instance, on arrival, we let the customer show us the damages and areas of concern while maintaining a neutral demeanor. We reserve opinions on whether materials are salvageable or unsalvageable until we can pretest the damage.
Categories of mold damage:
Visual changes and stains
Physical deterioration
Soiling
Odors
Mold develops on almost all surface types. However, only organic materials deteriorate from such contamination. The only thing you can worry about for inorganic materials is soiling, which cleaning can readily address. Staining is another issue that we can readily handle. Stains primarily affect fabrics such as draperies, carpets, or even clothes and develop because of the different color shades of mold colonies.
Structural areas such as ceilings and walls bear the brunt of mold contamination because they are organic materials. They are assemblies made up of drywall panels, insulation, and structural framing. Mold readily colonizes all these materials leading to significant deterioration. Our SERVPRO technicians carry out controlled demolition removing unsalvageable porous materials. Then we can clean, dry, and seal structural supports to prevent a recurrence.
SERVPRO of North Everett / Lake Stevens / Monroe considers all angles when addressing mold damage to ensure satisfactory outcomes. Call us at (360) 243-8313. We're Faster To Any Size Disaster.